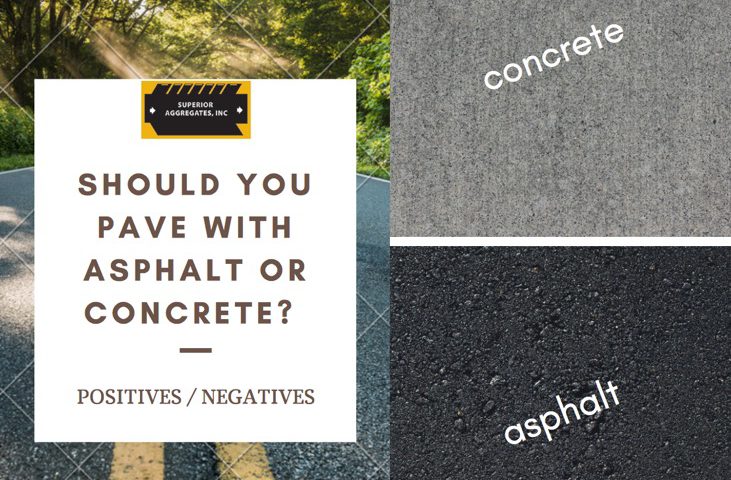 Should You Pave with Asphalt or Concrete?

When paving your driveway, it pays off to use the best materials possible. Whether you're installing a new driveway, conducting driveway repair or are resituating your front yard's layout, you should know the differences between asphalt and concrete installations.

If you don't want to use low-end gravel or brick pavers, asphalt and concrete are your best bet. Each has advantages, but each is particular to different housing, driveway, traffic and lifestyle situations. Before picking a material, check out the differences below.

Concrete

When paving with concrete, you'll have the benefit of a quick dry time. While both concrete and asphalt need to 'cure' before they're driven on, concrete may take longer to dry. Concrete driveways utilize cement as a main building material.

The Positives

In general, cement driveways last longer than tar driveways. Tar is softer than cement, and it degrades quicker. With proper maintenance, a cement driveway can last ages. Additionally, a concrete drive is aesthetically pleasing if a homeowner wants a natural-looking home extension. Plus, concrete delivery is normally quick.

Concrete is an easy material to work with, and it can be manipulated to exist in a number of different finishes. Concrete can be tinted, stained and revised to display a number of colors. It can also be colored on a section-by-section basis, giving a driveway unique patterns. Concrete is a fantastic mold, too. Homeowners can etch, engrave and stamp various designs into concrete, making their driveway incredibly unique.

The Negatives

While cement is incredibly flexible, it's frequently expensive to use as a material. Concrete takes much longer than cement to dry, so it isn't a great option for homeowners in need of a quick sidewalk repair, driveway repair or installation.

Because concrete is comprised of sand and minerals, it's more susceptible to cracking. It doesn't expand well, and it can break if the temperature rises, or falls, rapidly. Salt, used for melting ice, is a good investment if you live in a cold area.

Asphalt

Like concrete, asphalt does take time to dry before it can be driven over. A lot of homeowners in high-temperature climates use asphalt for its temperature resistance. While asphalt may get hotter than cement, it's a great choice for homeowners seeking long-lasting options while being practical.

The Positives

Asphalt is easily poured, so it's a great option in terms of installation flexibility. Tar is generally cheaper than cement, and it offers a great bang-for-your-buck experience. Because tar expands and contracts with heat contact, it's an excellent installation option if you live in a hot area.

A lot of homeowners use asphalt to create a seamless driveway-to-road look. Asphalt, for many, offers a more "classic" design than typical asphalt installations.

The Negatives

Asphalt is a more limited than concrete. Because it needs to be rolled and compressed, unique finishes are difficult to maintain. Until recently, asphalt color variations were limited. Still, some homeowners may not like the lack of design diversity with asphalt.

Asphalt needs to be resealed every three to five years, too. It also needs to be resurfaced. Fortunately, asphalt repairs are generally easier to conduct than concrete repairs.

So, Which Should You Choose?

While both materials are viable installation options, you should select the material most conducive to your area's environment. If your driveway experiences rapid temperature shifts often, stick with asphalt. If you live in a cold area, consider installing a cement driveway.

An asphalt driveway can cost between four and seven times as much as a concrete driveway. While a concrete street needs little maintenance over 20 to 30 years, an asphalt driveway may need to be resurfaced in as little as 15 years. Paving with concrete means you'll face less maintenance. However, concrete may not last as long.

At the end of the day, measure the costs. Then, pick the driveway repair, installation or replacement option healthiest for your wallet—and for your family.