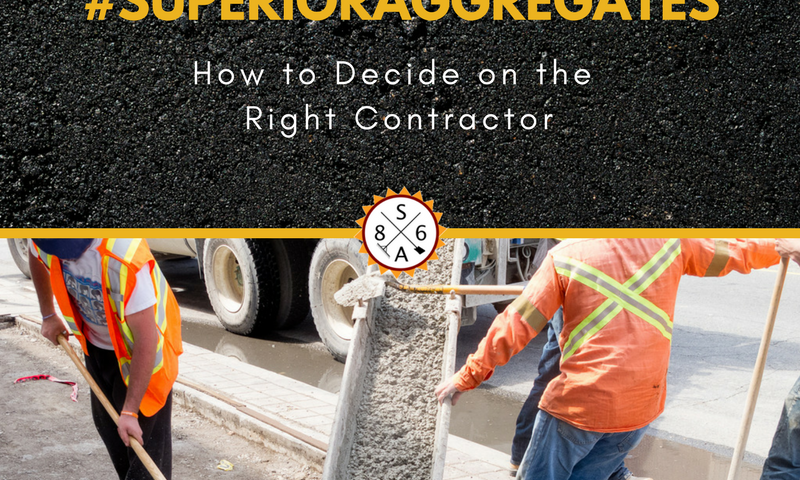 How to Decide on the Right Contractor

Concrete services are incredibly versatile, and homeowners have a lot to choose from. The residential concrete market is booming, and today's contractors are installing floors, patios and driveways at incredibly high rates. Available concrete professionals have their work cut out for them, and homeowners need to ask a few questions before settling on any specific provider. Finding the right concrete contractor can be tough. Settling on a single provider is a gamble, and it's not one which should be taken lightly.

Before choosing a contractor, a few things should be considered. Below, we're covering the best way to choose a concrete contractor.

Step One: Do a Little Research

First, you should research. A simple Internet search can return a list of potential contractors able to provide service in your area. If you want to get personal, ask your family members and friends for referrals and recommendations. Or, reach out to your area's local concrete supply company and ask about commercial asphalt repair. Ask them to refer some decent concrete contractors. If you can compile a good list of contractor options, you'll have a healthy supply of service providers to choose from.

Step Two: Assure Insurance Coverage

Next, you should make sure any contractor you work with has insurance coverage. Sometimes, things go wrong. A job site needs to be protected, and your service provider should have insurance coverage. Make sure you're not going to be liable if an accident occurs. Before picking a contractor, make sure they have adequate insurance coverage. Their coverage should be enough to cover your home, the project and any injuries in the event of an accident. To help you determine whether a contractor's insurance coverage is enough, contact their insurance company directly. Then, ask them to verify the contractor's insurance—as well as their coverage policy's dates.

Step Three: Determine Their Experience

A good contractor will have years of proven experience. Whether you're looking at a commercial asphalt resurfacing provider or a number of driveway repair contractors, years in business is a huge indicator of direct potential. A lot of asphalt companies present their years in service up front for this reason—it's a good advertising strategy. Some residential paving companies, meanwhile, can be difficult to pin down—experience-wise.

Choose between the providers which have at least five years of experience. Concrete contractors and businesses with at least five years of business tend to be more stable and reliable than most. Experienced contractors are, more often than not, highly active on different projects while also being capable suggestion and insight providers. You'll want to choose a provider which can offer the right concrete mixes, who can suggest ongoing project options and who can enhance your home's overall look.

Step Four: Ask for References

In the concrete contractor world, successful providers are backed by reputable references. Before signing any contract, ask your contractor for a list of references. Then, contact these references. Learn more about your potential contractor and their operations. Ask all references questions about the type of project they received service on, the project's length and the project's overall quality. Then, compare this information to other references.

Once you've compared several contractors, you can compare prices. While price should be a large determining factor of which services you'll pick, it should be one of the last considerations you view. Insurance coverage and a solid track record are more important. They'll assure high-quality work, and they'll give you an idea of your project's overall quality. Many residential paving companies exist, but not all can provide long-term project sustainability and great repair jobs. Be smart, check out several providers and make an informed decision.

Get in touch with us today. Check out our services or send us a quote for your next project.